---
On View to November 19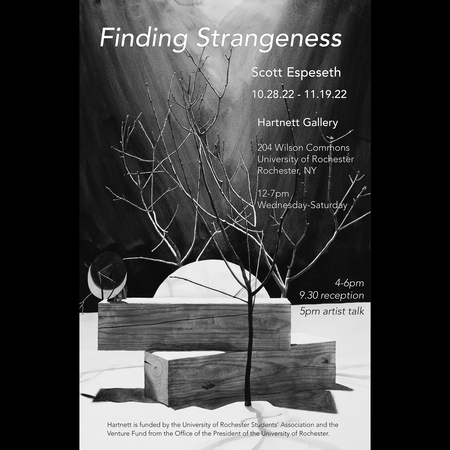 ---
Review of "Seers, Craftsmen" in the Shepherd Express
Divergent Perspectives at Hawthorn Contemporary's 'Seers, Craftsmen'
BY SHANE MCADAMS
SHANE MCADAMS
MAR. 16, 2022
"Artists Colin Matthes and Scott Espeseth share some basic interests that make their work a congenial pairing in an exhibition space. Each works mainly with fluid black medium on paper in the service of mostly representational imagery. From there though the two diverge, heading in equally fascinating directions into opposite ends of the visual universe. The drama of their sometimes complementary and mostly dialectical relationship is on full display at Hawthorn Contemporary in a show with the cheekiest title of the year, 'Seers, Craftsmen...'"
---
Interview in the Blog "Sub-rural" at badatsports.com
"

Scott Espeseth's sedate composition, "Aluminum Storm" embodies the artist's punning sound-images, ashen palette, and generally understated rendering of his immediate environment. "Storm" depicts the stark metal siding of a neighbor's unassuming frame house and some lawn clutter, filtered by a screen in a bare aluminum storm window. The softly-focused center enhances the darker interior casing, drawing attention to the edges and contradicting the deep space intent of its one-point perspective. Espeseth is exceptional at inverting the restfulness of common domestic accoutrements, offering them in striking, but temperately shaded graphite and watercolor..."
---
2022 Wisconsin Artists Biennial

The Wisconsin Artists Biennial began in 1900 as the Society of Wisconsin Artists with the mission to promote "the ennobling and educational influence of art." The exhibition aspires to showcase cutting-edge—even controversial—art emerging from Wisconsin. When members of the public requested a work be removed from the 1921 exhibition, they were rebuffed and told it was "essential to the life of the organization and integrity of their profession, to demand opportunity for free thought and action…." Outside experts traditionally jury the selection; during the 1930s, the celebrated Regionalist painters Grant Wood and John Steuart Curry were among the jurors.

In 2014 MOWA formed a partnership with Wisconsin Visual Artists (WVA) to co-organize and host the biennial, which draws over a thousand entries from more than three hundred artists across the state. The approximately fifty works chosen reveal the depth and diversity of contemporary American art viewed through the prism of Wisconsin.

The biennial awards $10,000 in cash prizes. The top honor, the MOWA Prize, consists of $5,000 and a solo exhibition to run concurrently with the next iteration of the biennial. The MOWA Prize is generously sponsored by Janel and Phil Maples.

2022 JURORS
To ensure an unbiased selection process, three jurors from outside of the state reviewed the more than 1,200 submissions, the largest number in the history of the biennial. A special thank you goes to jurors Dan Gunn, artist, writer, and adjunct assistant professor at the Art Institute of Chicago; Phyllis McGibbon, graphic artist and professor of art at Wellesley College in Massachusetts; and John Salminen, internationally renowned watercolor artist and educator.

2022 BIENNIAL ARTISTS
Luke Achterberg (La Crosse)
Hector Acuna (Cedarburg)
Kelly M. Alexander (Belgium)
Danielle Attoe (Milwaukee)
Jennifer H. Bastian (Madison)
Anthony Baus (Racine)
Emily S. Belknap (Milwaukee)
Lois Bielefeld (Glendale)
SPOOKY BOOBS (Madison)
Barry Roal Carlsen (Fish Creek)
Rebecca E. Carlton (Fish Creek)
Mauree Childress (Wauwatosa)
Sandra Cipollone (Milwaukee)
Craig Clifford (Appleton)
Amy A. Cropper (Waukesha)
Phyllis Deicher-Ladwig (Plymouth)
Patrick M. Doughman (Cedarburg)
Anthony Duvall Bozanich (Madison)
Scott Espeseth (Madison)
Aris Georgiades (Stoughton)
David Graham (De Pere)
Robert D. Jinkins (Rewey)
David Najib Kasir (Whitefish Bay)
Linda Kelen (Spring Green)
Helen R. Klebesadel (Madison)
Leif Larson (Oshkosh)
Fatima Laster (Milwaukee)
Matthew Ludak (Madison)
Christine B. Miller (Whitewater)
Lianne M. Milton (Madison)
Jose Morales (Milwaukee)
Bethann Moran-Handzlik (Fort Atkinson)
Susan L. Morrison (Stevens Point)
Marjorie M. Mau (Green Bay)
Brandon Nacke (Milwaukee)
Robert C. Osborne (Racine)
Melissa Pare (Milwaukee)
Nirmal Raja (Milwaukee)
Michelle Richeson (Neenah)
Janet Roberts (Brookfield)
Dane A. Schumacher (Green Bay)
Trina May Smith (Milwaukee)
Valaria Tatera (Milwaukee)
Robert P. Ulrich (Milwaukee)
Ariana Vaeth (Shorewood)
Shane Walsh (Milwaukee)
Michael Westcott (Milwaukee)
Charlie B. Wetzel (Madison)
John Whitney (Baileys Harbor)
Christopher T. Wood (Milwaukee)
Rina Yoon (Milwaukee)
Larry Zamba (Salem)